EZMeet Management
EZMeet Diving Software is FREE and was developed by US Diving.
For a similar program to purchase go to www.edive.info
EZMEET has worked on
Windows 98, 2000, Me, & XP.
I recommend holding on to a Windows XP laptop to run this free EZMeet Program.
The program was designed for all types of competitions.
USD, FINA, AAU, NCAA & High School
NOTE: Vista and Windows 7 may not run the program, you can try installing (right click) as Administrator and running the program each time as Administrator. If it does not work, use Window XP.
In addition, DIVE VERIFIER Excel form is available to check dives and use as an entry form for High School and USD events
This site is also intended to provide ideas and information for events run on any type of diving software or manual events for high school, collegiate or club events.
EZMeet Program is available for use.
Although it is no longer updated on a regular basis, it contains both old and 2007 rule sets High School Rules are still current as of 2011..
Dive Verifier posted for 2007
Updates for these programs are no longer scheduled...but they are maintained here for your use.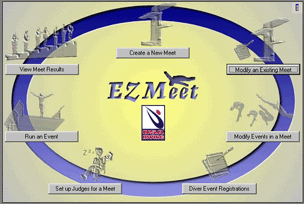 Developed by USA Diving to assist Meet Managers for all types of diving competitions.