Guide to EZ Meets regardless of what type of programs you use.

USA DIVING MEET MANAGEMENT

There really is no such thing as an EZ Meet, there are too many factors to create confusion, but the following should help your meet run smoothly.

Computers/ Manual tables...whatever...just be sure you handle each of these issues.
1. New divers/parents are always at each level of competition. Be sure all information is included in your Meet Information Sheet. Write your Meet Information for the NEW parents and divers. The odds are that the returning parents and divers won't read it anyway, because they think they know the plan. They just look at the schedule.

GENERAL REMINDER....don't let the parents and coaches make you crazy.
Remember: They are looking at the meet from a completly different perspective from you. They just need to be assured that you are looking out for their diver. Once they have checked in and confirmed their list and payment, you get to focus on running the meet.
2. Late Fees: Very important for trying to teach people to follow rules and get their information in on time. You need to plan your events and collect money as needed to pay for the meet expenses. Remember that your goal is to get the dive sheets in on time so you can process the information on time...most people understand that there is a good reason for late fees if they have not made an effort to turn in their information.
Be consistent referring to date stamps on envelopes or other documents mailed/emailed, so that Registration check-in volunteers can explain the fees when required and parents or divers do not feel picked on. Understand that like it or not, there will always be a handful of people who will have a story to convince you that the Late Fees should not apply to them. Arrange for a specific individual for them to be referred to so your volunteers can continue working with the more cooperative divers/parents. This will make it more fun for your volunteers.

3. Checking Sheets: Regardless of what computer system you use to run your meet, when you receive sheets in advance make sure they are checked in advance so corrections for all events can be made at check-in. If nothing else, use the Dive Verifier (Excel Program) to check all sheets submitted and make notes on them (using stickies) if they have problems. If submitted on a Diver Verifier program, the version number is listed at the bottom so you know it is verified. If using a computer system to run your competition, all sheets should be entered and printed so they can be signed by the diver at check in. EZMeet now has an ENTRY FORM that can be printed for each diver showing all the data entered in the computer for the diver to verify and sign. Since coaches and divers have the option of questioning a failed dive as entered in the computer wrong, it has become important to track changes to sheets. This may not matter at a small local meet, but it will make a difference at a qualifying meet.

4. Setting up events: In EZMeet, you can use the default events to create your meet quickly. This will automatically put 5 judges as the default for scoring. Verify judges per event and make any adjustment if necessary. Using the default events provides you with the events you will most likely need for the type of competition. If changes need to be made, events can be deleted and added as necessary.

5. Getting the table ready to run: Before printing sheets: ALWAYS...Verify that the diving order has not changed...(divers removed or added) better yet, assume it has and resequence the divers to confirm a set order. Print sheets. Transfer data to tables for use. I use a memory stick/thumb drive and transfer the whole database renamed to that event. That way I have quick access and don't have to worry about combined events.
6. Make sure the Announcer reads from the printed sheets. Although there are Announcers scripts and other options, reading from the sheets keeps the sheets in order, and makes sure all notes and corrections are made on only one set of sheets. This makes sure that you have all data entered and it is confirmed by the diver each round when it is read from the sheet. If the diver challenges a change that should have been made, it is corrected on the sheet and in the computer at the same time. The master scorer records directly on the announcer sheets and passes them back to the announcer.

7. THE MASTER SCORE/ANNOUNCER SHEETS ARE YOUR BACK-UP...don't pass them out to the divers. Master scores are never compared with announced scores recorded...so if the master scorer writes the wrong score....nobody catches it unless there is a question by the other individuals recording scores and comparing as they go. These verified scores are your final scores....They will only refer to the Master scoring sheet if there is an issue. Print a new set of sheets to distribute or have an extra set recorded by an extra table worker that will have the totals entered and confirmed from the computer as you go, round by round. make sure sheets you distribute are correct. Highs and lows do not have to be crossed off, but the scores need to be accurate.

8. Have back-up data available at the table so that a challenge to dives entered in the computer can be quickly resolved. Original sheets should be filed in alphabetical order and ready to use as needed if there is a question.

9. Changes will happen at the table, practice your procedure to make sure you all know what to expect. When a dive is changed follow this procedure to make sure everyone at the table has the correct information before you start again. This makes sure everyone at the table has the changes in place before you start.
.Diver announces the new dive.
Announcer tells the table the new dive and waits until it has been entered into the computers.
Both computer operators announce the new DD to prove that they have entered the correct dive and agree at the computer system has identical information entered.
The announcer records the dive change with the correct DD on the dive sheet and then...only then announces the new dive for the diver.

IT IS IMPORTANT... to take the time necessary to make these changes correctly. Take as much time as needed. The diver stopped the event and needs to wait while all systems are adjusted before you continue. Not confirming these changes across the table will be a problem later...it's not worth rushing through.
The Rule Book should technically be sitting on the table...but watch out that someone doesn't walk off with your only copy. The DD's entered in the EZMeet Program and Dive Verifier are calculated from the formula's set by FINA.
OF COURSE YOU ARE USING THE CURRENT VERSION...right?

10. RESULTS.... As long as both computers agree round by round, you can be assured that your results agree and results will be final when the event is completed. YOU can read final results from the computer screen if you like.
NOTE: earlier versions of EZMeet allowed you to change team affiliations for each meet even though the diver was originally entered with a specific team.. Some Reports pulled the team information inconsistantly. Be sure that the team your diver is earning points for is shown on the bottom right hand corner of the Register diver screen.
I really recommend that you have a printer on the table and print them ASAP.
Now start looking for errors....Unattached divers, wrong team names, and other stuff you should have double checked before the events started...that hopefully you can address before the results are distributed. ...You will always continue to find a few people who will finally tell you that their name is spelled wrong AFTER the meet..
When posting Results on the Internet, arrange to have them in ADOBE PDF format. They can not be altered from the original posting. The PDF file can be created event by event or at the end of the meet for the whole set of events. (Free PDF formatting downloads are available.)
.
Oh yes...major meet rule...Never Run On Deck.
In the middle of a computer meltdown or major issue
the sight of someone running across the deck will only get the stands talking and
questioning the validity of the meet and worrying about things they can not control..
Just talk a deep breath, walk calmly...slowly...and evaluate the situation...fix it
and move on when you are ready.
Running, Panick and Stress don't help solve the puzzle pieces
necessary to get the meet back on track.
Just have fun and enjoy the challenge!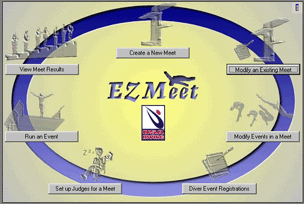 Developed by USA Diving to assist Meet Managers for all types of diving competitions.