Results are considered Official if not contested within one hour of the contest for most types of Meets.
See the Rulebook for details

NOTE: Although you can quickly print results to announce scores and post for review...You might want to be sure they are printed with a Time & Date so you can update them as needed with details like Diver's Name spelling and team affiliation information that might not have been corrected at check in. (EZMeet includes Time/Date for quick reference to the most current version of the results.)
Results should include enough information that a newspaper can understand who is participating and where they are from.

The Meet and Event information is important todocument the event. Although you may identify Meets & Events for easy access while running them, you may want to modify the names before they are printed as Official Results. (Within EZmeet you can change the name of an event by going to EDIT Event or the Meet Name under EDIT Meet)
If you wish to alter the standard results printed in EZMeet, export them as a RTF to be edited in Word or other Text editing programs.

Include:
Name of the Meet should include city, state and location

If there is a sponsor that should also be included
Event names should be clearly indentified and describe the event.
Divers Names
Points earned
Team Name - No Abreviations (if team codes are used, include a Key letting others know what they mean.)
City, State if needed, applies to each team listed- newspapers need to know who is local.
Make it easy for the press to write a story and give them enough information.

FORMATS:
PDF files allow the results to be posted and viewed exactly as shown all formating stays in place, no text wrapping. They are easy to email and what you see is what you get. This method does not allow the files to be modified once it is official.
Word Documents or Excel files can also be created to send information to provide information to groups susch as US Diving who will archive the data in their own format.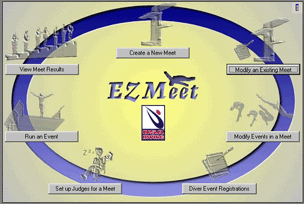 Developed by USA Diving to assist Meet Managers for all types of diving competitions.




News
DIDID YOU KNOW...
a full set of blank dive sheets for registration are installed in your resources folder when running the program..
They are also available to download here